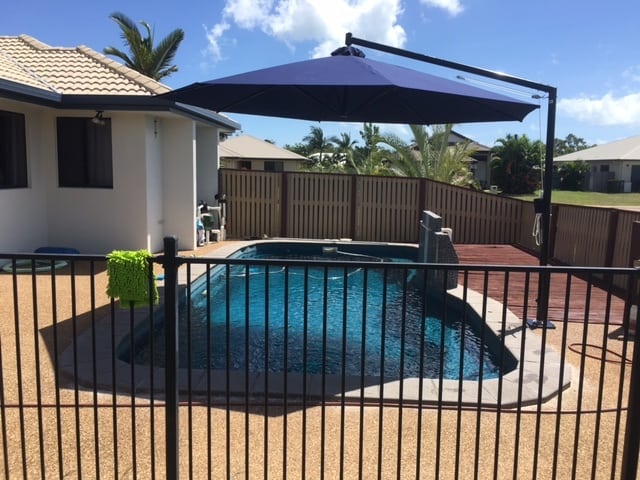 Outdoor Umbrellas in Townsville
Enjoy Your Outdoor Activities With Our Flexible Usage and Trendy Outdoor Umbrella
Outdoor umbrellas are a very popular form of shading system in North Queensland, offering a serene, tropical and trendy aesthetic. They are a valuable addition to any home or business, offering protection from the sun and rain, ensuring your can enjoy the outdoors as long as you like.
Functionality and design is ideal for pools, patios, decks and restaurants
Flexible and can be closed when not in use
Can withstand strong winds and harsh weather
Canopies made from advanced outdoor awning fabrics
Available in square, rectangle and octagonal shapes
Choose from side-post or centre-post umbrella designs
Why Shadeland team is perfect for you
Shadeland focuses on both engineering and design, ensuring a perfect balance of functionality and style. We offer warranties on our outdoor umbrellas to give you even greater peace of mind and we even stock a unique range of commercial umbrellas, which are perfect for businesses and restaurants.
Plus, you can enjoy a free design consultation to discuss your umbrella options.
Shadeland's high quality design and professional installation process for outdoor umbrellas in Townsville
Step 1: Free design consultation
Call us on (07) 4721 4278 and we will organise a convenient time to visit your property, discuss your needs and assess the area. We will make expert recommendations based on your requirements and budget, and provide a tailored design.
Step 2: Quote
After refining and establishing the design, we compile and present a quote. These quotes may be available during the consultation, or in more complex scenarios we will provide a written quote soon after the appointment.
Step 3: Installation
If you accept the quote, we will order the materials and organise the installation. It usually takes approximately a week before we can begin the installation process, however, we can discuss your installation timeline in more detail during your initial consultation.
We offer customization design options to suit your need the best.
Shadeland is passionate about meeting your every need, which is why we can custom-design an outdoor umbrella to suit any size and look. Choose from square, rectangle and octagonal shapes, with umbrellas available at any height and in a range of colours. The sky is the limit!
The difference between side-post umbrella and centre-post umbrella
During the consultation process, we may ask your preference on a side-post or centre-post umbrella design. To help you understand the difference, a centre-post umbrella is the traditional umbrella style that has a canopy hanging out from a pole in the centre. Meanwhile, a side-post umbrella will have a pole that extends up and out over the side with the canopy hanging sideways.
Get sun protection and style with a trendy umbrella shading system
Call Shadeland today on (07) 4721 4278 and we will organise a convenient time for your free design consultation. Tell us what kind of umbrella you envision and together we can custom-design your unique umbrella to any size or style!